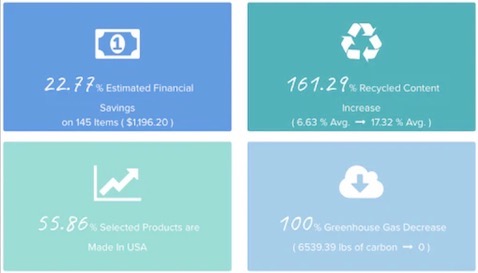 At the Raw Office, we are looking out for both your business, and the planet. With these dashboard tiles, you'll immediately see the positive impact your purchases can make.
Recycling
At The Raw Office, we track recycled content of both paper and plastic products. This tile demonstrates how you can make a dent in the huge problem of filling the ocean & landfills with plastic.
Greenhouse Gas Reduction
All purchases made through The Raw Office are 100% carbon neutral. Even if you choose a product with low recycled content, you're still making a difference with our carbon offsets.
Made in the USA
Our dashboard shows you the percentage of what has been made in the US, so you know what you buy supports our supply chain. Your support of quality US made items keeps supporting our capacity to produce what we need, here in the USA.
Raw Eco Score
Your Raw Eco Score reveals the eco-friendliness of every product we sell. You can compare various products and prices and fight the balance of cost and eco-friendliness that's right for you.
Savings
Last but not least, we show you how much money you save versus your previous purchases. Helping your bottom line while helping the planet feels pretty great!
With The Raw Office, all your office purchases not only save money, they also help save the planet. It's quick and easy to set up an account.